Enabling Customers To Make Smart Decisions: Next-Generation Sales Enablement
Buyers today have more information at their fingertips than ever before. They're more informed, connected and empowered. And despite growing focus and commitment to accelerate companies' understanding of their customer targets, both traditional and emerging sales channels have struggled to keep up. In 2018 only 54% of salespeople met their sales quota, according to CSO Insights.
Here are a few reasons why, in our experience:
Buyers are savvier, skeptical – and overwhelmed. According to Edelman's Trust Barometer, 63% of customers need to hear a company's claims at least 3-5 times before they believe it. Information overload and dozens of choices and ways to engage bring complexity and confusion into the mix.
Buyer expectations have skyrocketed. They now expect a continuous, on-demand, highly personalized purchasing process regardless of channel, often using multiple means to research, consider and buy.
Traditional channels haven't been quick to adapt or align. There are fewer salespeople covering more territory and topics than ever before. They're competing with emerging direct and virtual channels. And they're still using relationship-selling techniques even as buyers (and buying) continue to evolve.
This has put priority on companies to find new ways to dislodge, disrupt and influence buyers' thinking across the purchasing process. To help educate and inform buyers in meaningful and non-salesy ways. To connect buyers' stated and unstated needs into solutions and more sales.
This is easier said than done, however, given the structure of most Fortune 500 organizations:
55% of companies have no cross-channel sales strategy in place, citing lack of resources and investment as key barriers (The CMO Club).
And without it? Marketing's budget and focus remains on finding leads while reducing overall spend. Sales focuses on quota attainment and enabling frontline teams, mainly through technology, tools and training. Customer experience, if it exists, has its own priorities lodged somewhere in the mix, which typically focus more on keeping current customers than finding new ones.
Quite simply, we are not doing enough to enable success for today's sellers and perhaps more importantly, today's buyers.
Given all this, next-generation sales enablement needs to go way beyond sales. It must fully integrate sales, marketing and customer experience priorities around target buyers to ensure they've got the right information at every step of their purchasing process to make smart and informed decisions, regardless of how they choose to interact with your company. And while that certainly includes any and all frontline sales channels, it shouldn't exclude your other channels the buyer may also engage.
Companies emerging as winners in next-generation sales enablement do three hard things well in helping their customers make smart purchasing decisions:
They reframe sales enablement as customer enablement. Taking a customer-centric view to help buyers make sound purchases they won't regret theoretically makes sense but may be difficult to put into practice the multiple channels & priorities in place all vying for buyers' attention.
They tightly align sales and marketing to achieve it. Aligning around the buyers' preferred journey and helping answer their key questions throughout is key to developing a seamless, meaningful and successful purchasing experience.
They accelerate progress by thinking "outside in." B2B organizations with tightly aligned, integrated sales and marketing achieve 24% faster 3-year revenue growth and 27% faster 3-year profit growth (Wheelhouse Advisors).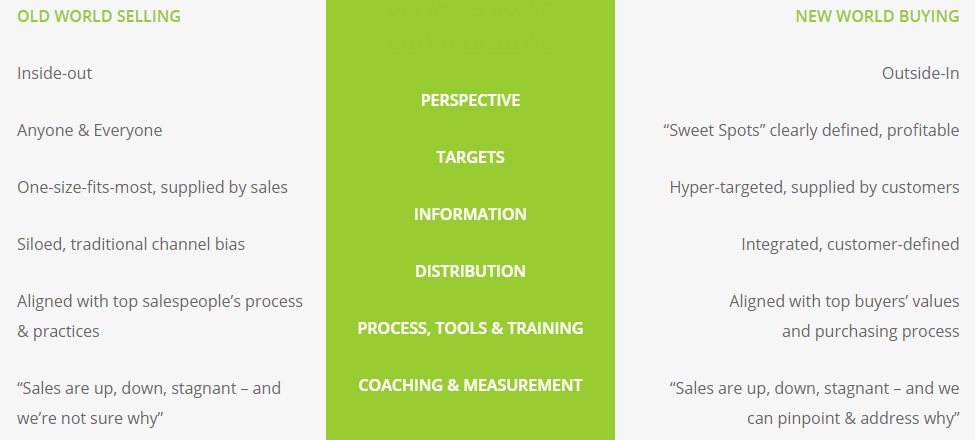 Random acts of marketing and sales no longer work with today's buyers.
You've got to integrate them into part of a larger, customer-biased sales enablement plan to achieve lasting results. When you look "outside-in" from your target customers' lens, you're not just enabling customers. You're also enabling frontline sales and other customer-facing channels to become more impactful, relevant and meaningful, too.
About Weber Associates
Weber Associates is a Columbus, OH based consulting firm. Since 1985, we have blended the creativity of a marketing agency with the analytical rigor of a consultancy to help our clients significantly grow revenues and customer loyalty. People hire us to solve real sales and marketing challenges. To improve their sales process. To grab someone's attention and selling something. In short, they hire us to make their marketing make more sales.