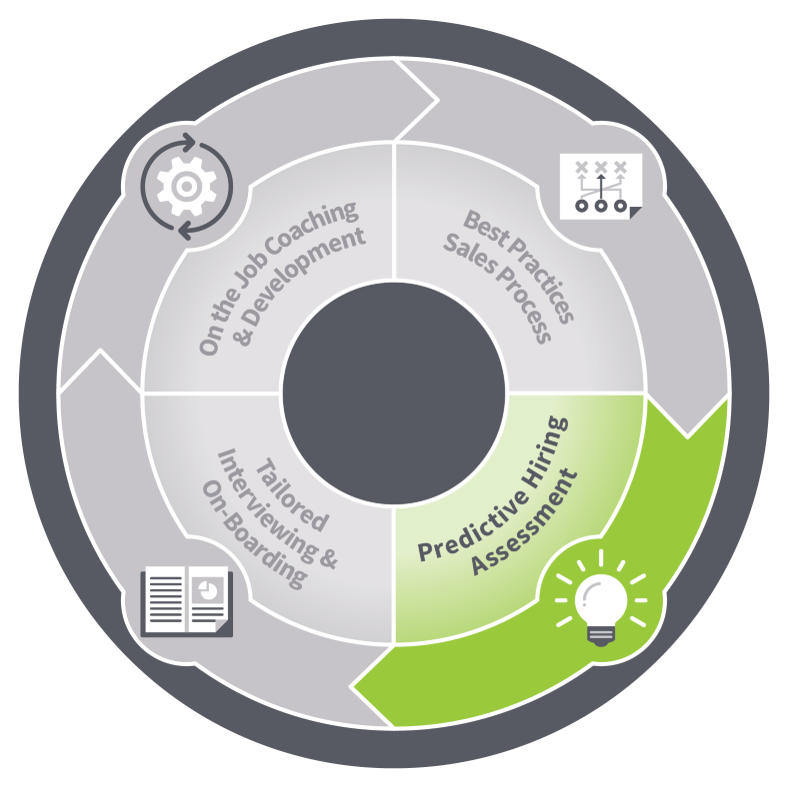 Hiring, cultivating and retaining top sales talent is essential to any B2B-oriented company's overall health and success. It's undoubtedly worth millions to even the smallest companies' top and bottom lines.
SO WHY ARE MANY OF US SO AWFUL AT IT?
Harsh? Maybe – but it might not be that far off. Close to half of all new sales hires – 46% to be exact – fail within their first 18 months. Even our frontline sales consultancy, which specializes in helping B2B sales teams get better, has struggled with bringing in talented individuals built to last and geared to the ever-changing needs of the Fortune 500. I've helped phone screen highly talented, highly recommended sales candidates. I've brought my toughest questions and selling scenarios – plucked from 18 years of experience on the frontlines – to the interview table. I've scrutinized resumes and referrals to find that one predictor that will tell us whether these bright, capable individuals in front of me will succeed or fail when they hit the ground. And I've been wrong more often than I care to admit.
It was time to take a step back and look at things a little differently, time for the "cobbler's kids" to learn and grow, to try something new. So we did, starting with an assessment (we are consultants, after all).
"If I had to live my life again, I'd make the same mistakes – only sooner," Tallulah Bankhead.
What did we learn? The (somewhat) good news is that none of us is alone. We're all struggling to find and keep effective salespeople:
Less than 60% of sales professionals make quota
Companies attaining revenue plans have also decreased over last 6 years, from 89.2% to 82.7%, on average
Now for the bad news: We're all spending a lot of time and money on something we haven't (yet) fixed. And the stakes are even higher than they seem:
71% of companies take 6 months or more to on-board new reps (1/3 take 9+ months)
Estimated cost of a bad sales hire is 1.5 to 2 times their first-year salary because of recruiting, onboarding & severance expense, plus revenue lost when filling a sales vacancy
That's a lot of time, effort and money thrown at a problem no one is really sure how to fix. So we took a deep breath and started with a simple mantra. Repeat daily, more often if needed. Repeat over and over until it's ingrained in the fabric of your sales hiring philosophy: I WILL MAKE FEWER BAD SALES HIRING DECISIONS THIS YEAR.
This sounds good in theory… now how about actual practice? Here are four must-haves we have found to be essential in making make fewer bad decisions and replacing them with good ones:
Take emotions and gut feel out of the equation. It's fun to get excited about the next big thing, especially when candidates look amazing on paper and sound even better in interviews. It's not as fun admitting failure, finger pointing and hand-wringing 12 months later when performance just isn't there.
Gravitate toward the facts, such as:
Commitment: Do they consistently move to a new company every 1-2 years? Is that because they're amazing and getting recruited away? Or is something else causing this? Look underneath the hood.
Promotions: How often have they been promoted within that timeframe? Given additional responsibilities? Asked to lead or manage? It's a good sign they've been valued and shown passion or commitment.
References: What did the last 3 companies say about this individual? Watch out for raving fans; they may have been coached or hand-picked. Listen for candor, both good and constructive. Note trends.
Results: What was their actual quota attainment or individual sales growth over the last 3-5 years? What size contracts? What does a healthy pipeline and close ration look like to them, and does it match your definition?
Consistency: Last year, while most recent, doesn't provide bigger-picture insights or patterns into performance, grit, attitude or work ethic. Look to mid- and longer-term trends to fill in headlines.
Don't hire in your own image.

Even if you were the proverbial captain of your sales football team, it doesn't mean that selling environment hasn't changed since then, or that your tricks and techniques still translate to others – or to the companies you used to sell into back in the day. Sales hires don't need to have attended your alma mater or gone through the same sales training – or for that matter, your company's school of hard knocks – to be successful there. Use the sales process and behaviors foundation that your organization has put in place as a method to scrutinize the most relevant KPIs and results this candidate has had success with. Also look for clear indicators that they follow a process at all, or at least know where they'd start once they get on the job.
Insert a well-balanced dose of skepticism and optimism. We sales folks are nothing if not eternal optimists. How could we survive in this role if we weren't? If you've lived in the sales world: How often have you promised that everything – or heck, even half the stuff – in your funnel was going to close? While we may be wired this way, it doesn't mean we need to believe our fellow potential colleagues when they promise the world. Rewire yourself during interviews to become an optimistic skeptic to detect proven or potential indicators of success and even better, indicators that something smells off. One candidate told us he had invented every popular advertising jingle within a certain industry over the last 25 years. This Mad Man didn't quite pan out given his cited yet dubious credentials. Our clients could smell it from a mile away.
Get more SALES-predictive. Don't expect to become more objective overnight without a little help from data. Many companies use some type of tool in screening candidates, yet many use HR-driven criteria like culture and personality fit versus the unique sales-specific parameters that predict frontline success. Some companies try to modify existing HR tools to work within a sales environment, force-fitting criteria they believe are most important or to model against their ideal candidate. Rules # 1 and 2 above demonstrate why that might only provide a partial solution to the sales hiring challenges we've seen.
From our research, The Objective Management Group (OMG) provides the only sales-specific, science-backed predictive hiring tool that, on average, has proven to have 95% predictive validity in hiring for sales success. Compare that to 14% without using some type of sales-specific screening tool. Two unique things that set OMG's tool apart from other screening tools and approaches is that it's focused solely on hiring for sales backed by millions of observations, and that the tool can customized for your unique selling environments like yours. Top Sales World named OMG the top Sales and Marketing Assessment tool in 2017 and the last six consecutive years before that.
One last note: Our mantra says make fewer bad hire decisions, not zero. Sometimes it just doesn't work out, for them or for you. You can't predict every sign or indicator of either success or failure. Neither can your sales hire candidates, until they try the role on for size and see if it fits, needs a few alterations or should go straight to the Goodwill bin.
With some tailoring to the sales process and behaviors you know work best for your company and your salespeople's role in it – stay tuned for that topic in our next blog post – coupled with guided coaching from sales managers and their own peers navigating your complex B2B sales world, you're on a path that at least feels clear and right. After that it is truly up to us salespeople to figure it out.
Want to share what you've seen work well or share your own war stories in hiring for sales success? Getting sales teams up to speed quicker? Coaching for results? Holding sales leadership accountable for their team's execution – and results? Let's chat.