It's a feeling. The vibe. The atmosphere. The sense of opportunity—of what could be. It's a vision of their dreams coming true that leads them to your university. But it's you — the person who helps them connect to campus from a distance — that helps them see that they can pursue a degree they dream of and find the campus that just feels right. We help foster this connection from the palm of your recruiter's hand.
We built the innovative Digital Recruiter with your needs in mind. We're making it possible to showcase your school's unique experience from anywhere in the world with a solution that will complement your rep's style and relate to prospects who were raised in a digital world.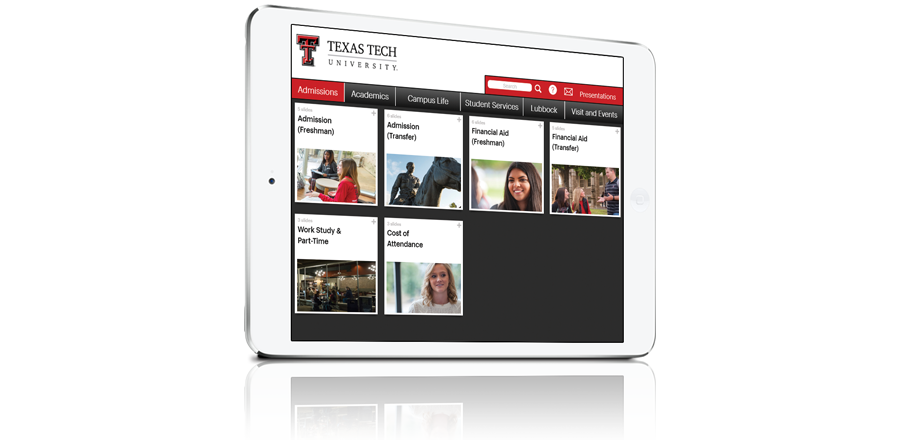 You target, we help you engage.
You already know the most effective tactics for targeting the students who will thrive at your school. Now, engage them using a tool they can relate to and that they can continue to experience seamlessly through email or text. Share videos to help them experience campus life and the classroom virtually, no matter where they are.
Pivot on the fly
The Digital Recruiter does just that. Quickly access all approved marketing materials you already use and love in one, centralized, mobile location whether you are online or offline. If it's not a topic or major you are familiar with, no problem! You can still showcase any major, department or campus activity easily without shuffling through papers.
Win over mom and dad.

Ease the parent's mind by sharing personalized information for admissions, financial aid packages and attendance costs. You'll keep a professional look while providing the details you know are important to them.
Be the big stud on campus.
Show cost savings and speed to market. The Digital Recruiter eliminates the need for costly printing and gives you the ability to update the information your team needs to focus on in seconds. Leadership can track and see details about activity to better understand your recruiters' performance. What are they talking about with prospect students and families?