Today's buyers are more informed, connected and empowered than ever before. And both traditional and emerging sales channels have struggled to keep up with their evolving demands. That's because customers don't think in channels like businesses do.
Random acts of marketing and sales no longer work with customers. They've got to be integrated and part of your larger plan. Next-generation sales enablement fully integrates the lens of the customer to equip your frontlines and align other channels to succeed in this new world. Taking a customer-centric view is a critical – but often-missed – nuance, especially in B2B.
Enter Weber Sales Enablement.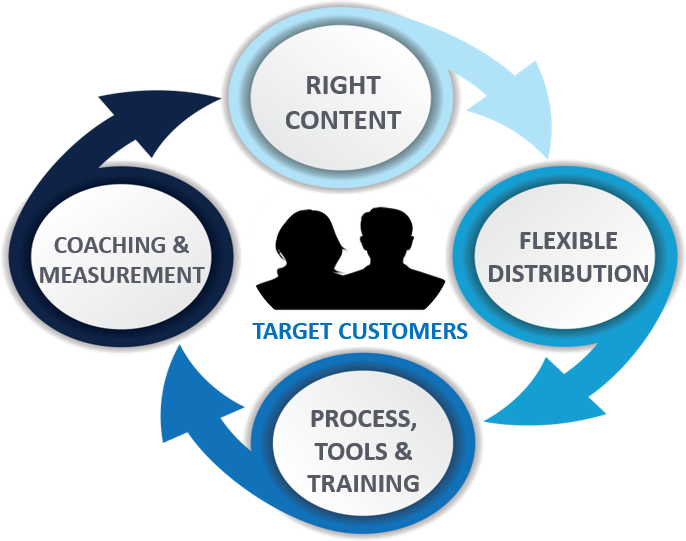 B2B organizations with tightly aligned sales and marketing achieve 24% faster 3-year revenue growth and 27% faster 3-year profit growth.
The Right Targets
Sweet Spot Segmentation

Buyer Values, Behaviors & Purchasing Preferences

Buyer Journey Mapping

QuickStrike Sales Targeting
The Right Content
Story & Value Proposition

Dynamic Targeted Messaging

Customer Engagement & Education

Custom Collateral
More than $16 billion in revenue from eight Medicaid projects covering Florida, Tennessee, Virginia and Illinois awarded state contracts
Integrated Distribution
Omni-Channel Optimization

Sales Process & Behaviors

Qualified Lead Generation
"Customers don't think in channels, but businesses do. Make sure your approach is in line with your audience, and where they will most likely engage."
– "Using Science to Humanize B2B Selling"
Sales Process, Tools & Training
Sales Hiring, On-Boarding & Training

Sales Playbooks

Interactive Sales Presentations

Interactive Customer Tools

Sales & Marketing Collateral

Sales & Marketing Gone Mobile
Barclays UK card division shortened its new hire training ramp-up time by 16 weeks and increased cross-selling conversion rates by 86% by following Weber's proven method for success.
Sales Coaching & Measurement
Sales Leadership & Coaching

Management Toolkits

Cause-and-Effect Sales Dashboards
"Organizations that align coaching with sales enablement see a 27.9% improvement in win rates."
-CSO Insights